Here at Mayfair Worktops we take pride in helping homeowners like you design their dream kitchens. As an experienced design expert with years of experience, I'm thrilled to share inspiring ideas for your kitchen using the captivating Aspen Shimmer Quartz worktops. This stunning kitchen worktop offers a harmonious blend of elegance and functionality, making it a perfect centrepiece for your home.
The Allure of Aspen Shimmer Quartz
We believe that a kitchen worktop should not only be functional but also visually stunning.
Aspen Shimmer Quartz perfectly embodies this philosophy with its soft white and warm beige tones. The subtle shimmering particles add a touch of natural elegance, reminiscent of sunlight dancing on a tranquil winter landscape. The versatility of Aspen Shimmer Quartz allows it to complement various kitchen styles, making it an excellent choice for both modern and traditional aesthetics.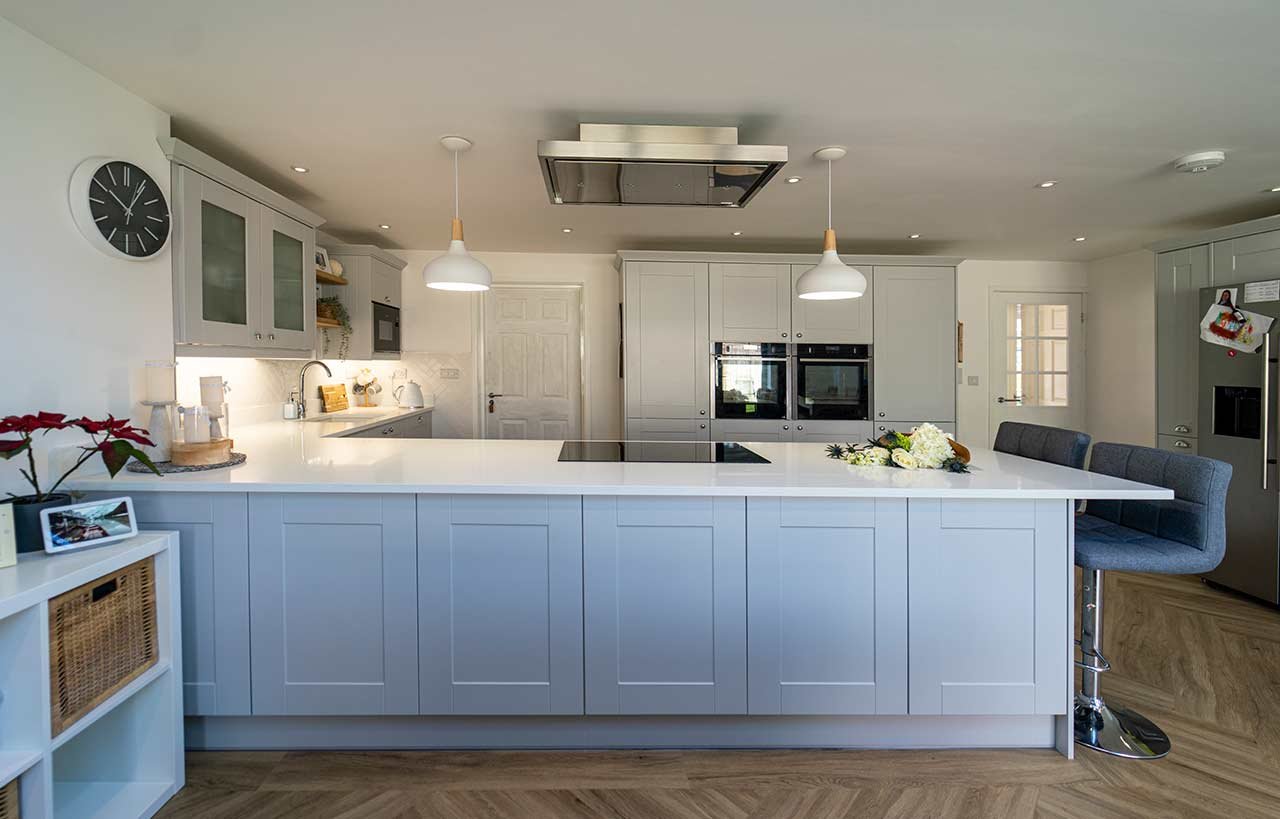 Nature-Inspired Kitchen Transformation
Recently, we had the pleasure of assisting a couple in transforming their kitchen into a nature-inspired haven. They were captivated by the serene outdoors and wanted to bring that essence into their home. We recommended Aspen Shimmer Quartz as the ideal worktop material. Its earthy hues and shimmering specks added a touch of nature's beauty to their kitchen, creating a calming and inviting space for their family to gather and cook together.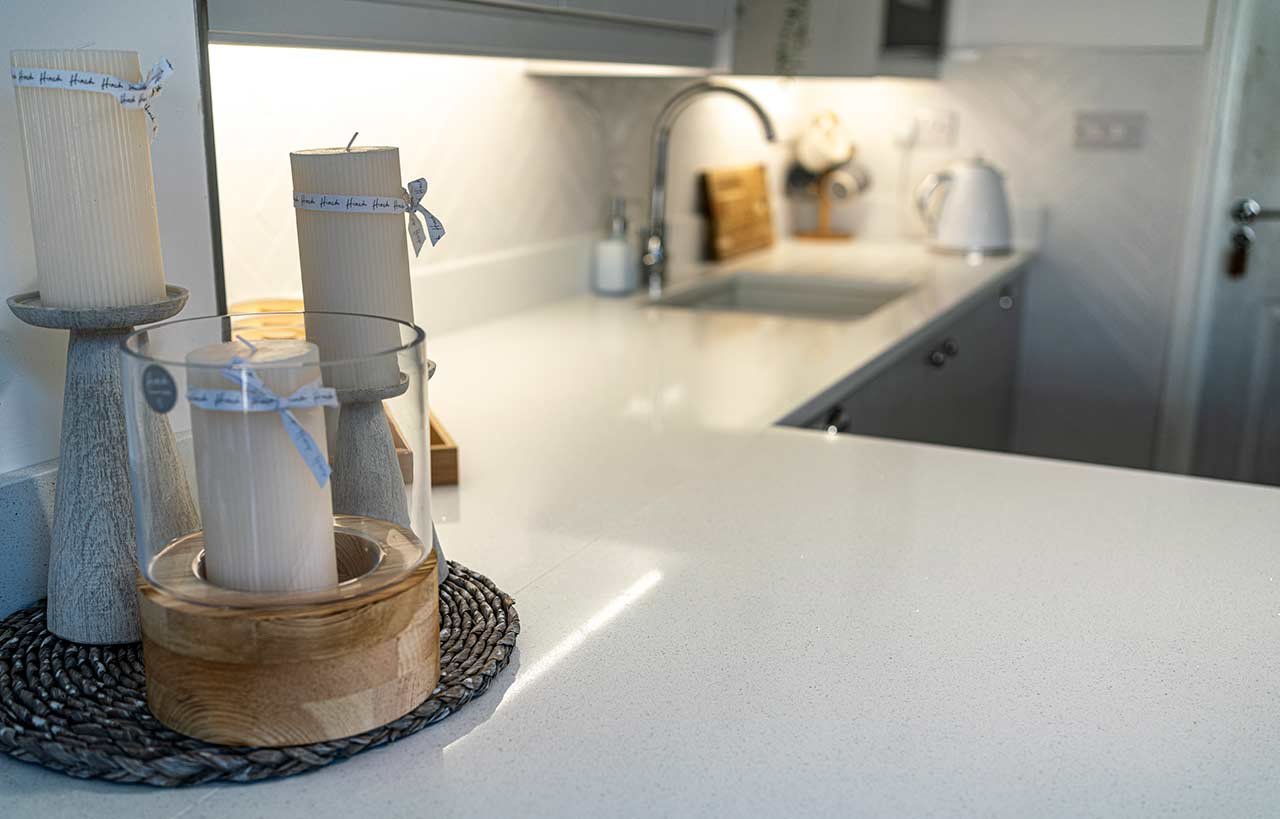 Elevating Your Kitchen Design with Aspen Shimmer Quartz
Your kitchen should reflect your unique style and personality. With Aspen Shimmer Quartz, the possibilities are endless. Let's explore some inspiring ideas to make the most of this stunning worktop:
Embracing Modern Minimalism
For those who appreciate clean lines and simplicity, pair Aspen Shimmer Quartz with sleek, handle-less cabinetry and minimalist hardware. The soft neutral tones of the worktop will complement the contemporary vibe, creating a chic and sophisticated kitchen space. Add a pop of colour with statement pendant lights or a vibrant backsplash for an extra touch of flair.
Rustic Warmth and Character
To infuse your kitchen with rustic charm, opt for distressed wood cabinets and vintage-inspired fixtures. Aspen Shimmer Quartz's natural hues will effortlessly complement the warmth of wooden elements, adding an inviting and cosy atmosphere. Complete the look with earthy tones and botanical accents, bringing the essence of the outdoors indoors.
Timeless Classic Elegance
For a timeless kitchen design, consider pairing Aspen Shimmer Quartz with classic white or cream cabinetry. This combination creates a sense of understated luxury that transcends trends and stands the test of time. Add traditional features like ornate handles or crown molding for a touch of refined elegance.
Durability and Resilience of Aspen Shimmer Quartz
At Mayfair Worktops, we understand that your kitchen worktop should be not only beautiful but also durable and resilient. Aspen Shimmer Quartz exceeds expectations in this regard. As a non-porous material, it resists staining and bacteria, making it easy to clean and maintain. This quality ensures that your kitchen worktop remains hygienic and pristine, even with daily use and spills.
A Testament to Endurance
Our customers have been delighted with the performance of Aspen Shimmer Quartz. We've received heartwarming letters from families who've shared their experience after a year of use. The worktop remains as beautiful and durable as the day it was installed, standing up to the demands of a busy kitchen with grace and endurance.
Claim Your Free Sample and Get a Free Instant Quote
We want to make your kitchen design journey as smooth as possible. That's why we offer free samples of Aspen Shimmer Quartz, allowing you to experience its beauty first-hand before making your decision. Claim your free sample today and let your imagination take flight with inspiring ideas for your kitchen.
Get a Quote, Begin Your Dream Kitchen Journey
Ready to turn your dream kitchen into a reality with Aspen Shimmer Quartz? We offer a free instant quote to help you plan your budget effectively. Our team of experts is here to guide you through the process and answer any questions you may have. Start your journey towards the perfect kitchen today.
Here at Mayfair Worktops, we believe that your kitchen should be a reflection of your unique style and taste. Aspen Shimmer Quartz worktops offer the perfect blend of elegance and practicality, inspiring kitchen designs that range from modern minimalism to timeless classic elegance. With its captivating beauty and exceptional durability, Aspen Shimmer Quartz is sure to elevate your kitchen to new heights. Explore the possibilities of Aspen Shimmer Quartz and create your dream kitchen with Mayfair Worktops today.
Discover more Quartz Worktops options and designs with our Quartz Worktop Collection.