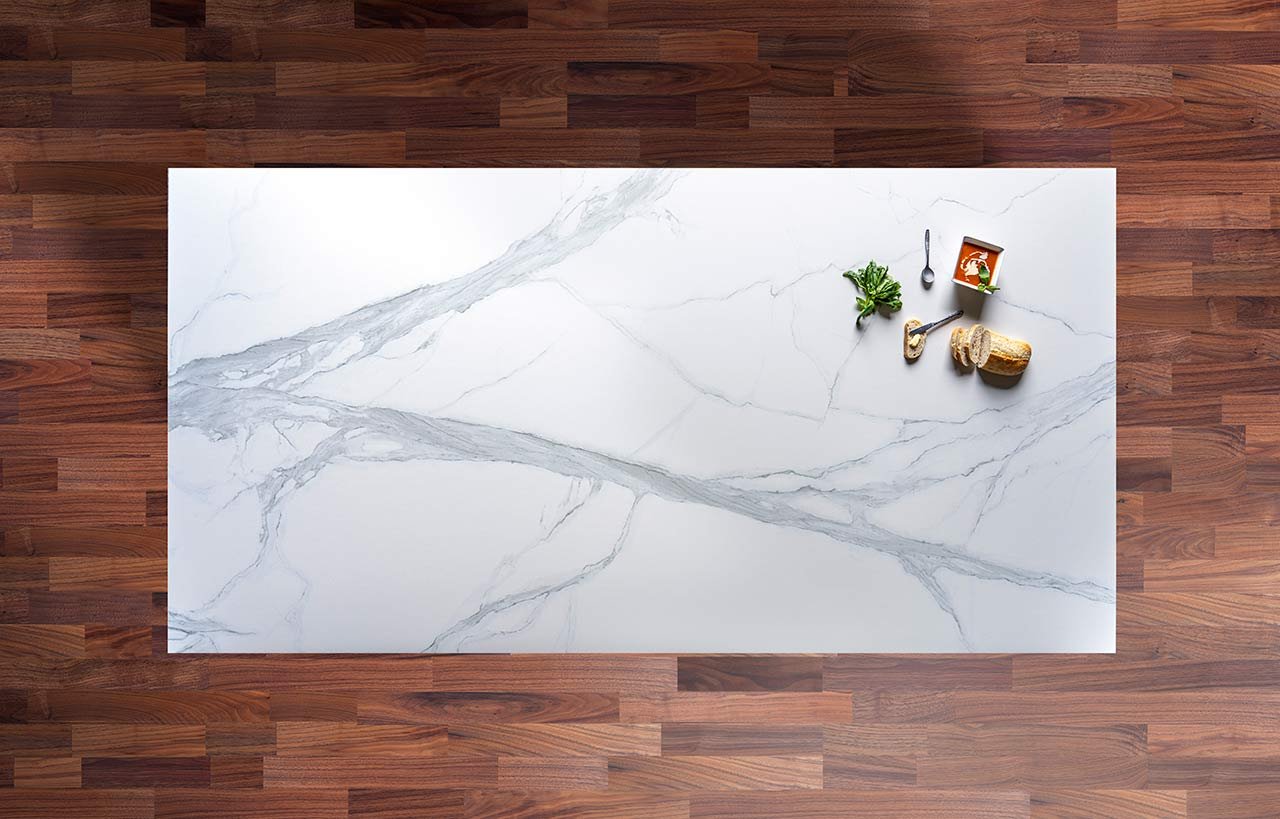 Welcome to Mayfair Worktops, where we bring you expert guidance on crafting a kitchen that exudes timeless beauty and functionality. As an experienced design professional with many years in the industry, I'm delighted to share insights on how to incorporate Volakas White ceramic worktops into your kitchen for an exceptional transformation. With their unparalleled elegance and practicality, these worktops are sure to elevate your culinary space. Let's delve into the world of Volakas White and explore innovative design ideas to revamp your kitchen into a captivating haven.
Unveiling the Timeless Elegance of Volakas White Ceramic Worktops
Volakas White ceramic worktops stand out for their natural allure, mimicking the classic beauty of marble. Their pristine white surface, adorned with subtle grey veining, adds an air of sophistication to any kitchen space. The elegance of Volakas White complements a variety of design styles, from traditional to contemporary, making it a versatile choice for homeowners seeking an enduring and stylish solution.
A Harmonious Blend of Aesthetics and Functionality
One of the remarkable features of Volakas White ceramic worktops is their seamless ability to blend aesthetics and functionality. The smooth surface provides a visually appealing backdrop for your culinary endeavours, while the material's durability ensures it withstands the demands of daily kitchen activities. As an employee at Mayfair Worktops, I have witnessed numerous customers express their satisfaction with the performance of Volakas White, especially in high-traffic kitchens where it continues to radiate beauty and resilience.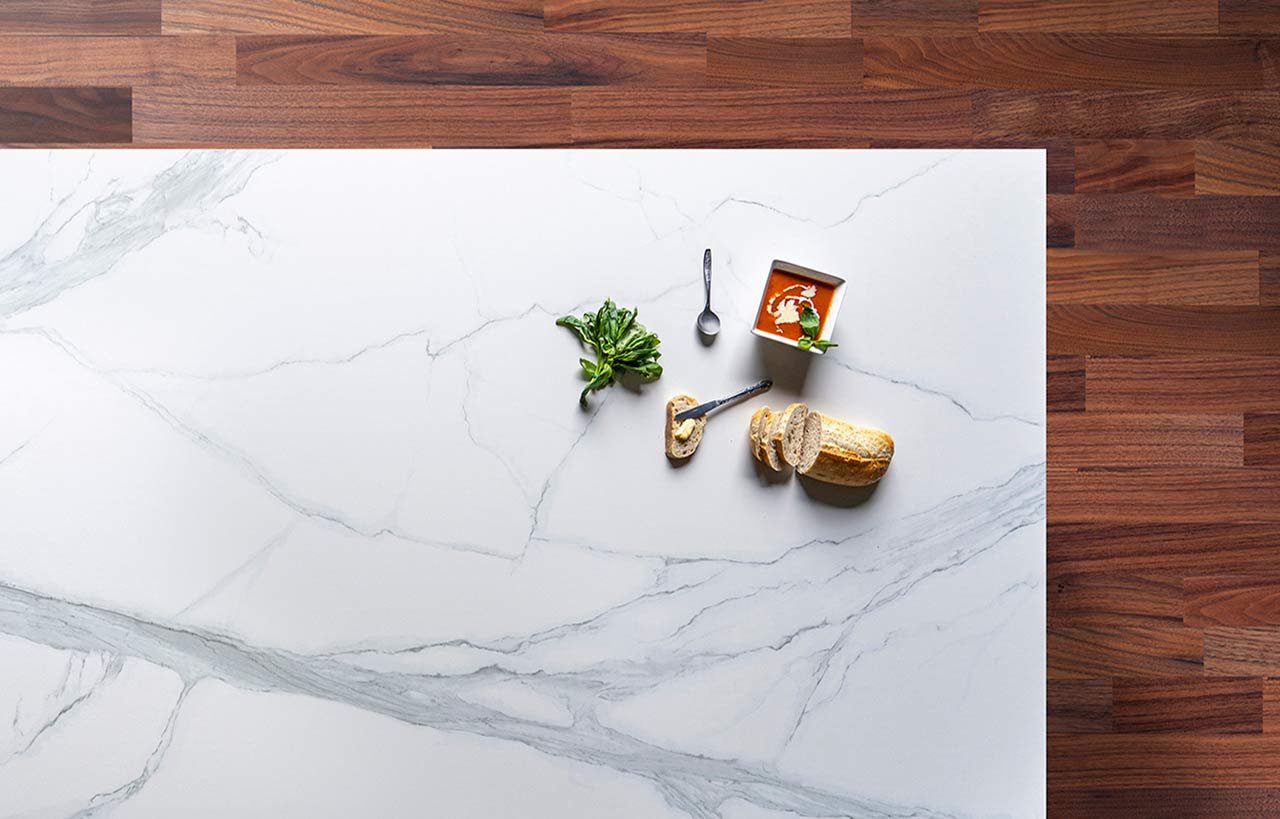 Designing Your Dream Kitchen with Volakas White
Now, let's delve into creative design ideas to showcase the elegance of Volakas White ceramic worktops in your kitchen.
Classic Elegance in Monochrome
A monochromatic kitchen with Volakas White ceramic worktops offers a timeless appeal. Pair the worktops with matte black cabinetry and brushed nickel fixtures for a sophisticated contrast. The seamless blend of light and dark hues creates a visually captivating environment that exudes charm and simplicity.
Coastal Chic with Nautical Accents
For a coastal-inspired kitchen, Volakas White ceramic worktops are the perfect choice. Combine them with soft blue cabinets, sea-inspired accessories, and natural materials like rattan or driftwood. This design concept fosters a serene and inviting ambiance that embraces the coastal charm.
Modern Minimalism in White and Grey
Volakas White ceramic worktops lend themselves seamlessly to modern minimalist kitchens. Choose sleek, handle-less cabinets in shades of grey or white, allowing the worktops to take centre stage. Add a splash of colour with vibrant décor elements for a touch of personality in the clean, contemporary setting.
Scandinavian Chic with Warmth
Volakas White ceramic worktops can also infuse warmth into a Scandinavian-inspired kitchen. Opt for light wood cabinets, soft pastel accents, and plenty of natural light. This design approach creates a cosy and inviting space that emanates the essence of Scandinavian style.
Practical Tips for a Seamless Integration
While planning to integrate Volakas White ceramic worktops into your kitchen, keep these practical tips in mind:
Optimal Space Planning
Consider the layout of your kitchen and plan the placement of appliances and cabinets to maximise the impact of Volakas White worktops. Proper space planning ensures a harmonious and functional kitchen environment.
Complementary Splashback
Pair the Volakas White worktops with a splashback that enhances the overall visual appeal. A patterned tile or a contrasting colour scheme can add depth and personality to the kitchen design.
Layered Lighting
Strategically incorporate layered lighting to highlight the beauty of Volakas White ceramic worktops. Under-cabinet lighting and pendant fixtures above the island can create an inviting atmosphere and illuminate the elegant surface.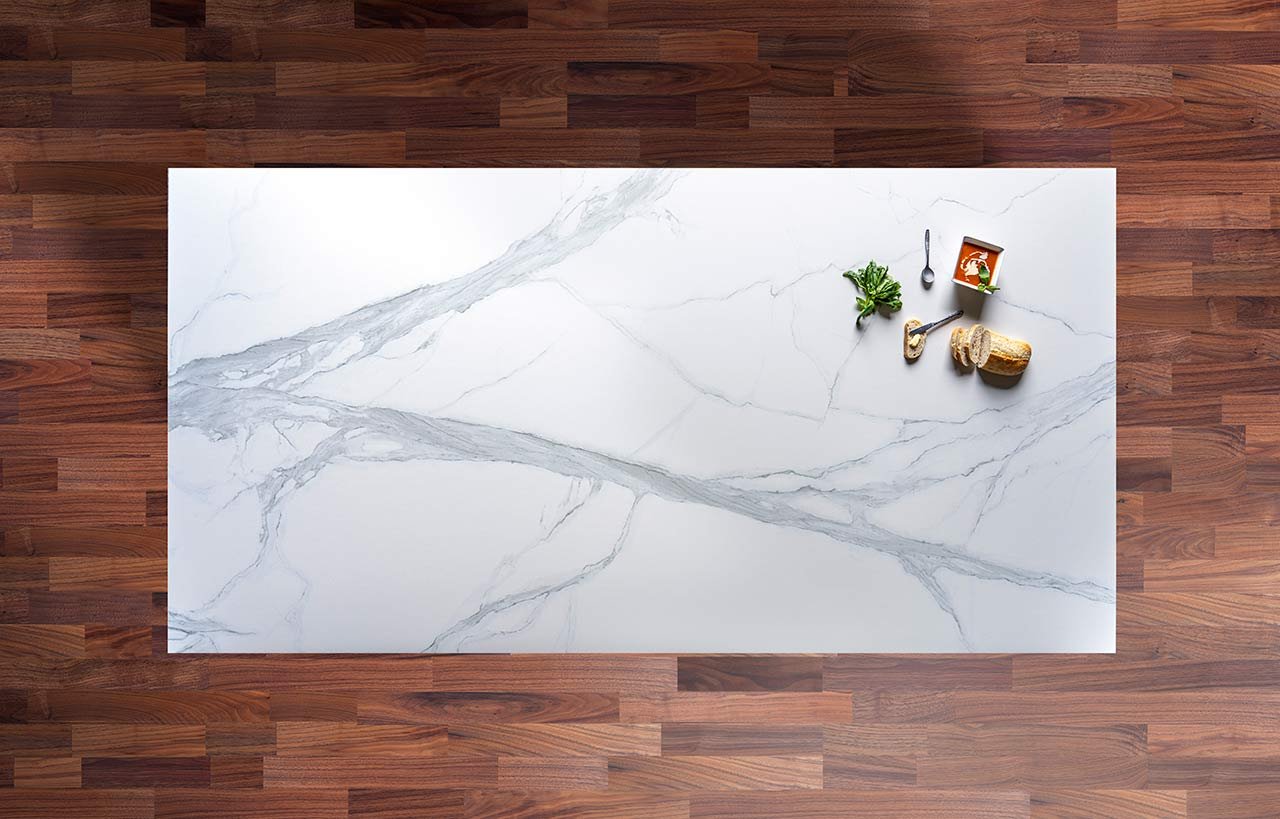 Free Samples and Instant Pricing
At Mayfair Worktops, we understand the significance of experiencing the beauty and quality of Volakas White ceramic worktops firsthand. That's why we offer free samples, allowing you to see and feel the elegance of the material in the comfort of your home. Request your free sample today.
Additionally, we value your time and understand the importance of budget planning during your kitchen renovation. That's why we offer instant pricing for Volakas White ceramic worktops through our user-friendly online quote service. Obtain your personalised quote instantly by providing some basic details about your kitchen dimensions and preferences. Start planning your dream kitchen with ease.
Congratulations on embarking on this journey to transform your kitchen with Volakas White ceramic worktops. Their timeless elegance and practicality make them a remarkable choice for any kitchen design. As you explore various design ideas and practical tips, envision the possibilities that await your culinary space. At Mayfair Worktops, we take pride in helping you discover the perfect worktop solution for your dream kitchen.
For more design inspiration and to explore our wide range of premium kitchen worktops, visit our full range of ceramic kitchen worktops. Let's work together to create a kitchen that embodies sophistication, functionality, and enduring beauty.