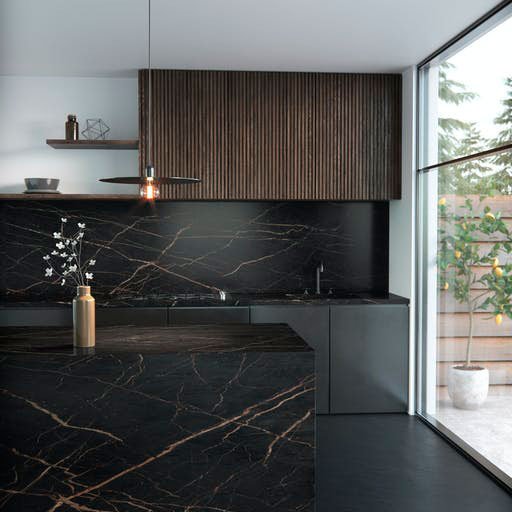 Ceramic worktops have become a popular choice among homeowners, combining durability with timeless elegance. In this article, we'll explore practical tips and creative ideas to ensure a seamless integration of ceramic worktops, transforming your kitchen into a stylish and functional space. As you embark on this journey, rest assured that at Mayfair Worktops, we offer free samples and instant online pricing to help you make informed decisions about your kitchen upgrade.
Understanding the Allure of Ceramic Worktops
Ceramic worktops have gained popularity for their inherent charm and diverse design options. Crafted from a blend of natural clay and minerals, ceramic worktops offer a smooth, non-porous surface that is resistant to stains, scratches, and heat. The material is available in an array of colours and patterns, allowing you to find the perfect fit for your kitchen décor. Whether you seek a contemporary look or a traditional charm, ceramic worktops provide the ideal canvas for your culinary haven.
Unveiling the Benefits of Ceramic Worktops
One of the key advantages of ceramic worktops lies in their exceptional durability. As an employee at Mayfair Worktops, I have witnessed the lasting impact of ceramic worktops in kitchens with high foot traffic. The material's resistance to wear and tear ensures a long-lasting and attractive surface that stands the test of time. Additionally, ceramic worktops are hygienic and easy to maintain, making them a practical choice for busy households where cleanliness is a priority.
Practical Tips for a Seamless Integration
Now, let's delve into practical tips that will aid in the smooth integration of ceramic worktops in your kitchen.
Optimal Space Planning
Begin the process by thoroughly assessing your kitchen layout and functionality. Consider the placement of appliances, sinks, and cabinets to ensure that the ceramic worktops optimise the available space. A well-planned kitchen layout enhances both aesthetics and efficiency.
Coordinating Colours and Textures
When selecting ceramic worktops, focus on achieving a harmonious colour scheme and texture. If your kitchen design boasts vibrant hues, opt for neutral-toned worktops to create a balanced visual appeal. Conversely, a monochromatic kitchen can benefit from textured ceramic worktops, adding depth and character to the space.
Complementary Splashback
A well-chosen backsplash can elevate the beauty of ceramic worktops. Consider coordinating the splashback with the worktop's colour or pattern to create a cohesive and polished look.
Creative Design Ideas with Ceramic Worktops
Ceramic worktops present an opportunity for diverse design expressions. Let's explore some creative ideas to inspire your kitchen transformation.
Timeless Elegance in White
Opt for white ceramic worktops to infuse a timeless elegance into your kitchen. Pair them with classic shaker cabinets, brushed nickel hardware, and a farmhouse sink for a sophisticated and inviting ambiance.
Modern Chic in Dark Tones
For a contemporary look, consider dark-toned ceramic worktops paired with sleek, handle-less cabinets and stainless steel appliances. Add pendant lighting and bar stools to create a stylish and functional kitchen island.
Natural and Earthy Elements
Blend ceramic worktops with natural elements such as wooden cabinets and stone accents to create a warm and inviting kitchen with a rustic touch.
Summing Up Ceramic Kitchen Worktops
Congratulations on exploring the possibilities of incorporating ceramic worktops into your kitchen. Their enduring elegance and practicality make them an excellent choice for any kitchen design. At Mayfair Worktops, we are committed to helping you find the perfect worktop solution for your dream kitchen.
For more design inspiration and to explore our wide range of premium kitchen worktops, visit our complete collection online. Request your free samples today and obtain instant online pricing for your desired ceramic worktops. Let's work together to create a kitchen that embodies sophistication, functionality, and timeless beauty.